Apologies to those of you who regularly follow my blog; it has been a busy time for me, and indeed, this will be my last blog for a while as I concentrate on other concerns and projects.  But I wanted to conclude this phase of my blog by looking at something I rarely consider in these pages: the "non-issue" book in British children's literature about people of colour.  In the 2017 Reflecting Realities report, the executive summary highlights the fact that many children's books with characters of colour are not only about Blackness (or Asianness, or being a minority ethnic member of society in general), they are about the problem of being an ethnic minority in society (national society or global society):
"The fiction titles were categorised according to a set of agreed sub-categories intended to define subject matter. 'Contemporary Realism' was a category defined as books set in modern day landscapes/ contexts; these amounted to 91 titles, which accounted for 56% of the fiction submissions. This category therefore featured the highest percentage of BAME character presence. Only 1 of the children's fiction titles submitted could be classified as comedy, conversely 10% of submitted books featured Social Justice themes. Almost a third of submissions classified as containing social justice issues focused on themes of war and conflict. This very much corresponds with the societal context of recent years and is important to acknowledge, explore and mirror in literature. That said this does however raise some important questions. Do those from minority backgrounds only have a platform when their suffering is being explored? And how does such disproportionate variation of representation skew perspectives of minority groups?" Reflecting Realities 2017 Report from the Centre for Literacy in Primary Education (https://clpe.org.uk/library-and-resources/research/reflecting-realities-survey-ethnic-representation-within-uk-children).
This is also an issue that has come up with regard to the CILIP Carnegie medal; if a book is not about a Serious Issue, then recently it has rarely been considered for nomination, let alone the award.  Alison Brumwell, chair of this year's judging panel, commented about the books on the longlist, "The forty books selected by judges offer intimate insights into family life, superb world-building and thoughtful, incisive explorations of complex themes and issues" (https://www.carnegiegreenaway.org.uk/press.php?release=pres_2019_longlists_announced.html). This award preference for complexity of themes and issues can be found across children's books—authors such as Robin Stevens, author of the Murder Most Unladylike series (the first of which appeared in 2014), rarely appear in nominations, despite wide success with readers, diversity in characters, and a "literary" style (by which I mean, endpaper maps and literary allusions and a twist in the traditional tale-type) that the Carnegie judges have tended to favour.  It was not always thus; in fact, the first winner, Pigeon Post (1936), was one of Arthur Ransome's Swallows and Amazons series; Lucy Pearson describes it as "deeply concerned with the land, with ideas of belonging, and with heritage and history" (https://carnegieproject.wordpress.com/2016/04/10/pigeon-post/) but certainly not an "issue" book in the same way that Sarah Crossan's One (the 2016 Carnegie winner) or Tanya Landman's Buffalo Soldier (the 2015 Carnegie winner) are.  The emphasis on issue-based literature, mostly for older readers, and the preference for it from both publishers and award committees encourage authors of colour to write about "issues" in the hope of gaining literary success.
Therefore, I want to focus the rest of this blog on two authors who have recently published books which might be considered "slight" by, not just award judges, but reviewers, teachers and librarians as well.  Malorie Blackman and Patrice Lawrence have both written "issue" books for older readers that the Carnegie medal process ignored anyway; Blackman's 2001 Noughts and Crosses, often considered her most significant book; and Patrice Lawrence's 2016 Orangeboy, which won the Waterstone's prize, were not shortlisted.  Both of these books considered questions of racial identity and power structures, among other things.  But their recent books for the publisher Barrington Stoke are very different.  Blackman's Ellie and the Cat (2019, illustrated by Matt Robertson, originally published in 1994 as Elaine, You're a Brat by Orchard Books) concerns, according to the back cover list of themes, "Cats, Magic, Friendship".  Lawrence's Toad Attack! (2019, illustrated by Becka Moor) lists "Friendship, Toads, Tricks" as its themes.  These themes, combined with book covers that depict smiling children and animals drawn in cartoon-like fashion, indicate right away that these books are not going to deal with "serious" issues or be Carnegie-contenders.
The plots of these books bear out the promise of the covers.  Ellie and the Cat is set in contemporary times, but it is a fairytale-like story with a wise woman (Ellie's grandmother) who teaches "the rudest, most disagreeable child I have ever met" (12)—her granddaughter, Ellie—to behave through the use of a transformation, a quest, and the help of magical, talking animals.  Lawrence's toads, on the other hand, do not talk, but they cause havoc for protagonists Leo and Rosa, who must discover both how to stop the hundreds of giant toads from destroying local gardens, and how to stop the destruction of the toads themselves by angry mobs.  Typical for Barrington Stoke books, these two are short (both resolve in under 75 pages), with relatively simple vocabulary and high readability.  The stories follow in the tradition of humorous, magical or hyperbolic books with mildly-delivered messages about good behavior or living in society, such as Gillian Cross's Jason Banks and the Pumpkin of Doom (also Barrington Stoke, 2018) or even older stories by authors like Dorothy Edwards or Dick King-Smith.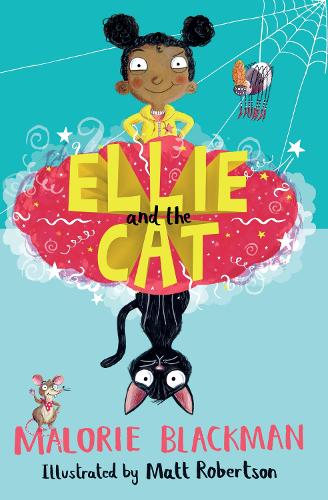 The difference is that Blackman's and Lawrence's books have protagonists of colour.  Ellie and Leo are (at least partly—Leo has a white mother and grandfather) Black British heritage, and Rosa is British Asian.  But in many ways, that is the ONLY difference.  These books are not about "being" Black or Asian, and they certainly are not about the problem of being an ethnic minority.  It is not a new phenomenon to include British children of colour in stories such as these (Gillian Cross had a school series first published in the early 1980s that included Clipper, a Black British girl), but they have typically featured as parts of a gang, or sidekicks.  What Lawrence and Blackman do in these books is foreground the protagonists of colour, and the illustrators follow suit by keeping them prominent and central in the illustrations throughout.  Readers are not reading about the problem of being Black or Asian British, but they are reading about being Black or Asian British.  Lawrence and Blackman give readers the opportunity to see characters of colour in leading roles, part of humorous situations and allowed to problem-solve in a way that does not focus on identity.  These books may appear slight, but they perform an important role: they make being Black and Asian part of being British, in contrast with a publishing and awards industry that want to make them only Black British or only British Asian.  And this is a change, a sleight-of-hand if you will, which, over the long term, could have more impact than any individual medal-winning book.