Last week, Alex O'Connell made the recently republished memoir for children by Floella Benjamin, Coming to England (Macmillan), the Times children's book of the week. The tagline (in the paper edition but not on the website) calls Benjamin's book, "a timely tale of migration" and O'Connell writes, "There aren't many successful memoirs pitched to this age group, but Floella Benjamin's story . . . is gripping"  (http://www.thetimes.co.uk/article/coming-to-england-by-floella-benjamin-b2cbc0grg). I'd like to unpack some of the language here, particularly the notion of the timeliness of the story, the apparent absence of memoirs for young people, and the idea of what makes a memoir for children successful.
Benjamin's book was first published in 1995, after she had rose to prominence as a children's television presenter on shows such as Play School but before she had become a baroness. Britain was at an uncertain moment with regard to race relations; only two years earlier, 18-year-old Stephen Lawrence had been murdered and the two white youths charged had not been prosecuted, due to insufficient evidence (and, it would later be determined, investigative failures by the police). Thus Benjamin's book was originally speaking to an audience with a heightened awareness of British racism against Black, and particularly Caribbean, people (whether they felt that racism was a justified response or not). Benjamin discusses her own experiences of racism, concluding after one incident, "That was the day I realized that in the eyes of some people in this world I was not a person but a colour" (82). Benjamin's reaction to racism, however, was not to fight the power structure, but accept it. She learns to speak the "Queen's English" after her teacher calls her a guttersnipe for using patois; Benjamin puts away her Trinidadian accent for "appropriate times" (101). She also accepts that in order to "make people see me as a person" (116), she would "have to work twice as hard as anyone else and be twice as good" (116). Benjamin's story provides a model for dealing with racism that puts the onus on the victim, rather than the racist, to change their behaviors and attitudes; it is a model that has worked for Benjamin, allowing her to maintain a strong sense of self-esteem that she tries to convey to her readers. It also makes her a "good immigrant"—one willing to accept the ways of society without pushing back (and perhaps this is why it has been reprinted several times and is now being touted as a "timely" book for a society uncertain over new waves of migrants).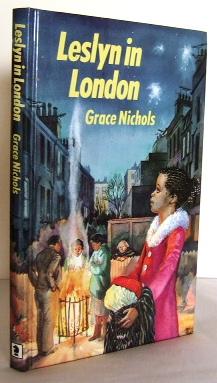 Front cover of Nichols Leslyn in London, illustrated by Annabel Large
But Benjamin's model is not the only one, and there are several book written for a similar age and audience that address issues of migration and the racism that results differently. Interestingly, some of the best are fictional memoirs written by authors who migrated later in life (such as Grace Nichols) or who are British-born (such as Trish Cooke). Poet Grace Nichols wrote one of her only novels for children, Leslyn in London (Hodder and Stoughton, 1984) more than ten years before Benjamin's memoirs appeared; Britain was, if anything, even more gripped by racial tension than in 1995, as the book appeared during the time period of the Brixton and Handsworth riots and the New Cross Fire. The protagonist, Leslyn, is quite young in the story—a first year junior—but this does not safeguard her from racist experiences. She is called a "nig-nog" (23) and "gollywog" (43) but this does not make her want to try harder to please. Her teacher finds her restless in school, and Leslyn makes up imaginary friends for company. Success comes, not in overcoming racism, or in working twice as hard at school, but in finding a person—a new girl at school who feels similarly left out—with whom she can be herself, as she is, rather than how others want her to be.
Bradford-born Trish Cooke also wrote a fictional migration memoir, which was published in Franklin Watts "Diary" series (the series included titles such as Diary of a Young Nurse in World War II and Diary of a Young Roman Soldier). The Diary of a Young West Indian Immigrant (2003), unlike Leslyn in London, is about a somewhat older girl (the book spans the period from 1961 to 1966, when the protagonist, Gloria, is between the ages of 10 and 16), but the reading level is suitable for a younger reader. The many illustrations and short page count (96 pages total) also place the book in a younger reading category. Cooke's book also deals with racism, of both a casual and more direct kind. On Gloria's first day of school, the teacher pats her hair and lets the other students in the class do the same (37), so the next day Gloria straightens it in order to better fit in—but the teacher and students "all looked at me with pity" (38). It is apparently better, in her teacher's eyes, that Gloria be petted like an animal than try to fit in. Later, when she is older, her school careers counsellor tells her she is "out of her depth" (68) when she says she wants to become a lawyer, and suggests factory work instead. As with the hair incident, Gloria at first tries to accept her fate and fit in, taking the factory placement work experience. But when they offer her a permanent place, Gloria decides not to take it, writing that her counsellor, "didn't give me the right advice. I intend to find out how to go about becoming a lawyer, and if not a lawyer then something more fitting to me" (91). Cooke's narrative reinforces the notion that sometimes even well-meaning white people do not have answers that work for migrants.
I'm glad Benjamin's memoir is back in print, but the books I discuss here, along with Valerie Bloom's Surprising Joy (Macmillan 2003) and Kate Elizabeth Ernest's Birds in the Wilderness (Methuen 1995) are not. Fictional accounts of migration can often address issues of racism more directly than a nonfiction memoir—and may give readers more options for thinking about their own experiences. Having more accounts of migration experiences, fictional or not, accepting British society or rejecting it, would be timely for all British readers to remind them that migration is not a new issue, and there are lots of ways to navigate its pitfalls and celebrate its joys.