Last week, academic librarian and YA social justice activist Edi Campbell produced a list of milestones in American YA literature, beginning in 1965 with the founding of the Council for Interracial Books for Children (the CIBC) and ending (at the time of me writing this blog) with the 2017 establishment of the journal Research on Diversity in Youth Literature.  In between are a host of important book publications, special journal issues, awards, blogs and podcasts, many of which are linked within the document to websites.  You can find her list, 50 Years of Diversity in Young Adult Literature, here: https://docs.google.com/document/d/1PVuxIihW4_3gAab-CHT5W0RXH61F0HeD6ouy1yMFOac/edit.
Campbell's list covers many different types of diversity (including racial, sexual, gender, and ability diversity) but Campbell did not want the list to be only useful to Americans.  She put out a call on Twitter for other scholars to add to the list, including—thanks for the shout-out, Edi!—me.  So what follows are some highlights for BAME Young Adult lit that I hope to add to her list (or at least run parallel with it).  I've started a bit earlier than Campbell's 1965 point of origin, because the British pioneers in the field came in response to a changing Britain (particularly in response to the 1958 Notting Hill riots). It is heavily weighted to Afro-Caribbean authors/characters, because that is my specialty, but I have tried to widen the spectrum as well.  I've tried to indicate the author's background where I can, and have stuck to authors who for at least part of their life lived and worked in the UK (thus, I've left off authors published in the UK like VS Reid and Rosa Guy).  Also, it's important to note that Black Britons were referred to as "West Indians" if they (or their parents) were from the Caribbean until at least 1980, and that British Asians were often considered Black.  If you know of things that should be added to the list, please let me know—and add them to Campbell's google document yourself.  A more extensive account of the importance of these texts can be found in my recent book, Children's Publishing and Black Britain, 1965-2015 (Palgrave Macmillan, 2017).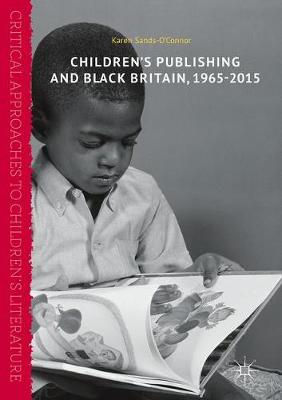 This week, I am publishing the timeline to 1980; this covers the period when Windrush generation writers began producing literature for the children of immigrants struggling to fit into and make sense of British society.  It also highlights the nascent and increasing political anger of the new Black Britons.  Next week, I'll publish the timeline from 1981 onward.
1962: White British author Josephine Kamm publishes Out of Step (Heinemann), an early "problem" novel about a white teenager in love with a West Indian.
1963: The Newsom Report, also known as "Half Our Future," focuses attention on secondary students in poor ("slum") areas of Britain.  It is the first major education report to consider what was then called "coloured immigration."
1964-1967: Andrew Salkey, the Windrush-era writer who had a prominent place in both the BBC radio programme, Caribbean Voices, and the Caribbean Artists Movement, becomes the first West Indian to publish children's books with a major British publisher, his "disaster sequence" with Oxford University Press.
1966: New Beacon Books founded in London by Trinidadian activist John La Rose and his British partner Sarah White.  The publisher/bookstore would be a primary outlet for the Black British community.  Indian-born English writer, Morna Stuart, publishes Marassa and Midnight (Heinemann), about Haitian twins separated during the French Revolution.
1967: The Plowden Report argues that books in schools (both educational and mainstream) should be re-examined to root out "out of date attitudes toward foreigners, coloured people, and even coloured dolls" (London: HMSO, 1967: 71).
1968: Jessica and Eric Huntley start Bogle L'Ouverture Press, a Black British press that would publish poetry by Linton Kwesi Johnson and Valerie Bloom, and the later novels of Andrew Salkey.  In Birmingham, Enoch Powell suggests in his "Rivers of Blood" speech that if immigration—by which he meant "coloured" immigration—wasn't stopped, blood would flow in the rivers of England.
1969: The George Padmore and Albertina Sylvester Black Supplementary Schools were started by John La Rose and others in the Finsbury Park area, although the schools were formally registered in 1973.  Supplementary schools, which originally started with the British Black Panthers in the mid-1960s, were designed to improve basic skills and teach Black history and culture to young Black Britons; the George Padmore school was specifically for young adults. (http://www.georgepadmoreinstitute.org/archive/collection/black-education-movement). This same year, the charity Book Trust secures Arts Council funding to allow it to develop new programmes for providing books to low-income families.
1971: University of Sussex doctoral student, Bernard Coard, publishes his pamphlet, How the West Indian Child is Made Educationally Sub-Normal in the British School System (New Beacon/Bogle L'Ouverture).  In it, he called for Black literature for Black British children.
1972: Community publisher Centerprise, based in the Hackney area of London, publishes Hackney Half-Term Adventure and the poems of Viven Usherwood, a young West Indian boy; these two books, along with communist teacher Chris Searle's edited collection of poetry from his multiracial classroom, Stepney Words, would sell over 20,000 copies by 1977.
1974: The National Association for Multiracial Education (NAME) is founded in Britain.  White British author Robert Leeson's novel about slavery, Maroon Boy (Collins), is published. White British author Jean MacGibbon publishes Hal (Heinemann), a novel about a friendship between a white boy recovering from a long illness and a lively West Indian girl.  This book would win the Other Award in 1975.
1975: Linton Kwesi Johnson's dub poetry collection, Dread Beat an' Blood, is published by Bogle L'Ouverture.  The Children's Rights Workshop, started by Rosemary Stones and Andrew Mann, create the Other Award to recognize books celebrating gender, racial and economic diversity in children's books.  Horace Ové's film "Pressure," about the struggles of second generation Black British youth, debuts.  Petronella Breinburg's Us Boys at Westcroft appears from Topliners.
1976: The Notting Hill Carnival erupts into riots when British police attempt to arrest a pickpocket.  Most of those subsequently arrested would be Black British teenagers.  British publisher Collins launches a prize for Multi-Ethnic Fiction; one of its early winners was Farrukh Dhondy for his collection, Come to Mecca—which includes a story based at the 1976 Notting Hill Carnival.  Dhondy's East End at Your Feet is published.  Black and Pakistani British youth make an unusual appearance in British fantasy, in Michael de Larrabeiti's urban adventure Borribles trilogy, the first of which appears in 1976.
1978: Farrukh Dhondy's Siege of Babylon is published in Macmillan's Topliners series, a young adult series edited by Aidan Chambers.  White British author Jan Needle's controversial My Mate Shofiq (Collins), about racism against Asian Britons in the north of England, is published.  The first in white British author Marjorie Darke's historical series, The First of Midnight (Kestrel) appears; with the other books in the series, it follows Black Britons from the 18th century to the present. Rock Against Racism, an anti-fascist, punk and reggae music organization, attracts thousands of Black and White British youth to anti-racist causes.
1979: The National Committee on Racism in Children's Books begins publication of a journal, Dragon's Teeth, to review and comment on multicultural children's literature.  The journal is edited by Black British librarian Dorothy Kuya.  White British activist Rosemary Stones becomes editor for the Children's Book Bulletin "for news of progressive moves in children's literature".  The first issue has criteria and guidelines for evaluating books for racist attitudes.  The Inner London Education Authority (ILEA) produces Our Lives, a collection of stories (many autobiographical) of immigrant teenagers.  White Briton Tony Drake's Playing it Right (Collins) depicts a multiracial middle school cricket team, including West Indian and Pakistani British players.
1980: The anti-colonial Communist publisher Liberation begins publishing books for children and young adults under the Young World imprint. Andrew Salkey publishes his only novel for young people set in England, Danny Jones (Bogle L'Ouverture); the climax takes place during Notting Hill Carnival.